22 840-81-70

interlab@interlab.pl

PHOTONIC CRYSTAL FIBERS
Optical fibers are at the heart of everything we do at NKT Photonics. We utilize our unique PCF technology to embed as many of the functions we need directly in the fibers, making systems build with our fibers simpler, cheaper and more reliable.
Our Crystal Fibre portfolio of specialty fibers spans from nonlinear fibers optimized for octave spanning supercontinuum generation, over the World's largest single mode ytterbium gain fibers for high power lasers and amplifiers, to advanced hollow core fibers guiding the light in air.
Most of our fibers are avilable with standard termination such as FC/PC or SMA connectors or spliced to standard fiber pigtails. Moreover, we offer the CONNECT broadband fiber delivery system, enabling easy and robust single mode coupling for fiber delivery at any wavelength - with the industry's highest coupling efficiency.
Photonics Crystal Fibers
http://www.nktphotonics.com/fiber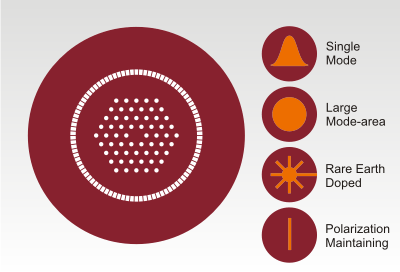 Strona w budowie - prosimy o podanie e-mailem modelu lub specyfiki interesujcego Państwa włókna na adres interlab(at)interlab.pl lub wysłanie wiadomości poprzez zakładkę KONTAKT
.
Aby zobaczyć pozostałe dokumenty należy posiadać konto w serwisie:

Brak filmów dla wybranego produktu





INTERLAB

02-953 Warszawa
ul. Kosiarzy 37 paw. 20

Godziny Pracy:

Pon. - Pt.: 8.00-16:00
Sob - Niedz.: Nieczynne

Kontakt

Tel. (22) 840 81 70/80
Fax. (22) 651 83 71
interlab@interlab.pl
Produkty powiązane